Gloria Tinajero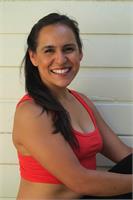 Gloria Tinajero, a Los Angeles native and health enthusiast, is a graduate of California State University, Long Beach where she studied dance & dance physiology. It is through her rigorous dance training where she was exposed to Mind-Body practices such as Pilates and Yoga. The studies of both these disciplines inspired her to further her understanding of the body, and increased the proficiency of her craft. She holds a Pilates Teacher Certification from Body Arts & Sciences International, which she earned in 2006. Gloria has over a decade of experience helping individuals of all levels, ages and backgrounds, achieve their fitness goals.
Gloria Tinajero instructs the following:
A unique blend of Modern Barre, Pilates Reformer, Mat Work and other Small Equipment. This class incorporates intense Abdominal and Gluteal work both at the Barre and on the Mat. It utilizes safe and effective Pilates Reformer techniques, and includes some cardio-based exercises at the Barre, and on the Reformer and/or Jumpboard.

*This class keeps muscles confused, trembling and on their toes, which is exactly where you want them to be to continue seeing results!
Open to All Levels.