Amelia Wise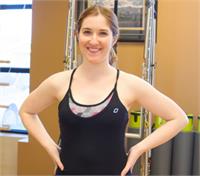 Amelia Wise's training and teaching methods draw from her many years of experience using a variety of mind-body movements. She started by becoming a Certified Yoga Instructor, then Personal Trainer, and continued with her training in Stott Pilates. From June 2015 - May 2017, she completed a specialty in Reformer Intensive and Chair/Cadillac/Ladder Barrel Intensives at John Garey Fitness and Pilates in Long Beach, CA, in the Stott Pilates Method. In addition, she has taken workshops on Athletic Conditioning on the Reformer, Scoliosis management and Yin Yoga. Amelia seeks to create workouts that are fun, challenging and pain-free for all clients, regardless of age or physical abilities. Her first experience with Pilates was training in Classical Mat Pilates back in 2005 while enrolled at Smith College. She immediately noticed the change in her physical strength and alignment, eliminating years of back and neck pain. Originally from the East Coast, Amelia relocated to Los Angeles to teach Pilates and Yoga full-time. She believes daily movement practices is essential for mind-body health and well being.
Amelia Wise instructs the following:
The Group Reformer Class utilizes spring-controlled resistance to build core strength, increase flexibility, endurance and coordination. The result is a strong, yet flexible, well-toned body, without muscle bulk. All exercises are done on the Pilates Reformer.

These classes tone and strengthen the whole body! You will feel energized and see results!

Group Reformer Classes are up to seven people in the class.
- All levels are welcome.