Maria Groezinger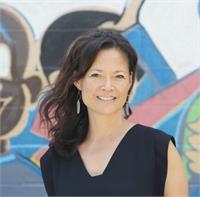 Maria Groezinger was raised in Massachusetts, lived in San Francisco, and settled into life in Los Angeles. She practiced Yoga and Pilates at home as a way to stay flexible and strong, but taking classes in the studio was a game changer. A light bulb went off when her daughter was in a car accident breaking her pelvis and tailbone. Maria witnessed the PT using Pilates in the therapy sessions, and in that moment, she knew Pilates could heal people. Maria was certified in Classical Pilates at Whole Body Method in early 2018. The school and studio allowed space to deepen her own self-practice. "I discovered by the 5th level you are an athlete, moving my body in ways I didn't know I could". During this year she assisted seasoned teachers, taught clients and attended workshops to deepen her understanding of the art. Maria's artistic endeavors include ownership of LA Apparel Services, where she has been consulting and facilitating in Apparel Manufacturing for the past 17 years. "I love the creative process and witnessing my client's ideas and dreams take a three-dimensional form". Maria is currently enrolled in Holistic Health Mastery, "The Masters Class in Natural Nutrition", and "The Life Food Peak Performance System". She is on the BOD with Peace4Kids.org, advocating for youth in the foster care system.
Maria Groezinger instructs the following:
The Group Reformer Class utilizes spring-controlled resistance to build core strength, increase flexibility, endurance and coordination. The result is a strong, yet flexible, well-toned body, without muscle bulk. All exercises are done on the Pilates Reformer.

These classes tone and strengthen the whole body! You will feel energized and see results!

Group Reformer Classes are up to seven people in the class.
- All levels are welcome.