Abigail Eiland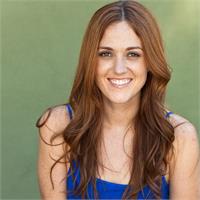 Abigail Eiland was first introduced to Pilates through her sister, as she rehabilitated from a bad back injury. Not only did her back get better, but she looked great! Coming from a performing background Abigail had limited experience with Pilates, but once she began studying seriously, she was hooked. Abigail was certified through Pilates Sports Center, Encino CA. in 2011, studying both Classical and West Coast Style Pilates. She believes that Pilates can be useful in every aspect of your life, and tailors her sessions to be fun, challenging, and positive. When she is not teaching, Abigail is a working actress and singer.
Abigail Eiland instructs the following:
The Group Reformer Class utilizes spring-controlled resistance to build core strength, increase flexibility, endurance and coordination. The result is a strong, yet flexible, well-toned body, without muscle bulk. All exercises are done on the Pilates Reformer.

These classes tone and strengthen the whole body! You will feel energized and see results!

Group Reformer Classes are up to seven people in the class.
- All levels are welcome.